The Broncos have already beaten the Chargers on Thursday to take sole possession of first place in the AFC West.  It looks like the Broncos are the team to beat in the AFC.  Will Dallas continue their hot streak and take control of the NFC?
Week 8 NFL Games
These teams are on a BYE – New York Giants and San Francisco 49ers
If you want to attend any of this week's games, I suggest you get the Best Tickets from Ticket Office Sales.
(affiliate link)


Thursday, October 23rd on CBS
San Diego Chargers at Denver Broncos — Manning continued his dominance with another stellar game and 3 more touchdowns.
Sunday, October 26th
9:30 am Eastern / 6:30 am Pacific game
Detroit Lions at Atlanta Falcons — With this game being played in London, the NFL is testing a new time slot to give football fans what they want… more football on TV.  This also helps the London fans because the game will start at 2:30 pm, rather than later in the evening.
1:00 pm Eastern / 10:00 am Pacific games
Minnesota Vikings at Tampa Bay Buccanners
Buffalo Bills at New York Jets
Chicago Bears at New England Patriots
Seattle Seahawks at Carolina Panthers
Miami Dolphins at Jacksonville Jaguars
Baltimore Ravens at Cincinnati Bengals
Houston Texans at Tennessee Titans
St Louis Rams at Kansas City Chiefs
4:00 pm Eastern / 1:00 pm Pacific games
Philadelphia Eagles at Arizona Cardinals
Indianapolis Colts at Pittsburgh Steelers
Oakland Raiders at Cleveland Browns
Sunday Night Football on ESPN
Green Bay Packers at New Orleans Saints
Monday Night Football, October 27th on ESPN
Washington Redskins at Dallas Cowboys
NFL Week 8 Game of the Week
Before we talk about the must watch game of the week, I encourage football fans to watch the early morning game in London between the Lions and the Falcons.  The NFL is testing out this time slot to see if we'll watch… if they get good ratings, they'll be sure to have more games like this.  We all want more football on TV, so let's do our part and tune in!
The Philadelphia Eagles and Arizona Cardinals are both 5-1.  Both of these teams know that they need a win to keep up with Dallas for home field advantage in the playoffs.  Philly has a fast-paced team with a great running game, while Arizona has a strong run defense.  Philly will need to rely on their aereal attack since the Cardinals will seek to continue their run dominance.
Although Bruce Arians has the Cardinals playing at their maximum potential, I think that the Eagles have too many weapons for Arizona to control.  I think the Eagles will win.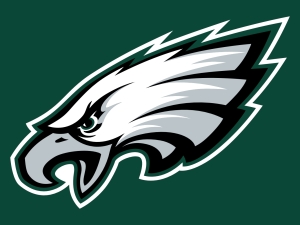 And if you're looking for a place to stay, please support one of our sponsors, Booking.com.
Bing predicts NFL Week 8 winners
Microsoft's Bing search engine predicts the winners each week of the NFL season based upon tons of data.  In Week 7, Bing correctly predicted 11 out of 15 games!  Here are the Week 8 predictions from Cortana.
CreditKarma predicts winners based on credit score
Each week CreditKarma.com picks a couple of games and predicts who will win based upon credit statistics of the people who live in those cities.  Here are the CreditKarma Week 8 predictions:
Join Our Newsletter
Join the FlyToTheGame.com newsletter to stay up-to-date with the latest news, specials, promo codes, and pre-sales to your favorite teams.