As we head into Week 11, a widening gap is starting to form between those who are in the running for the Super Bowl and those who are in the running for the #1 pick in the 2015 draft.  The Arizona Cardinals, even with the loss of Carson Palmer, are leading the NFC, with the Philadelphia Eagles and the Detroit Lions just a game behind.  The New England Patriots and Denver Broncos are atop the AFC with their high-powered offenses setting the tone.  The Oakland Raiders still haven't won a game, while the Tampa Bay Buccaneers have only won once.
Week 11 NFL Games
These teams are on a BYE – Baltimore Ravens, Dallas Cowboys, Jacksonville Jaguars, and New York Jets
If you want to attend any of this week's games, I suggest you get the Best Tickets from Ticket Office Sales.
(affiliate link)


Thursday, November 13 on CBS
Buffalo Bills at Miami Dolphins – The Fins dominated the game, giving up a late touchdown to make the score closer than the game really was.  Interesting note: both teams scored a safety.
Sunday, November 16th
1:00 pm Eastern / 10:00 am Pacific games
Minnesota Vikings at Chicago Bears
Houston Texans at Cleveland Browns
Atlanta Falcons at Carolina Panthers
Cincinnati Bengals at New Orleans Saints
Tampa Bay Buccaneers at Washington Redskins
Denver Broncos at St Louis Rams
San Francisco 49ers at New York Giants
Seattle Seahawks at Kansas City Chiefs
4:00 pm Eastern / 1:00 pm Pacific games
Oakland Raiders at San Diego Chargers
Detroit Lions at Arizona Cardinals
Philadelphia Eagles at Green Bay Packers
Sunday Night Football on ESPN
New England Patriots at Indianapolis Colts
Monday Night Football, November 17th on ESPN
Pittsburgh Steelers at Tennessee Titans
NFL Week 11 Game of the Week
There are a lot of great games this week that are going to have playoff implications come January, and they're all on in the afternoon or evening on Sunday… so feel free to sleep in.  Lions at Cardinals.  Eagles at Packers.  Patriots at Colts.  These games are gonna be huge.
The game I'm focused on is the Detroit Lions at Phoenix Cardinals.  Both teams are under the radar of most football fans, even though they both have 7 wins.  The Lions have a dominant defense and Megatron, but always seem to fold in the playoffs.  The Cardinals are the underdog that nobody expected to do so well with a cast of no-name players and a QB in Carson Palmer that missed a few games at the beginning of the year, and is now out for the rest of the season after tearing his ACL again last week.
Although Detroit has a ton of talent, I think that the Cardinals have a great coach in Bruce Arians and he continues to find a way to win with players that have been mostly discarded by other teams.  Almost seems like the Oakland A's Moneyball strategy has come to Phoenix.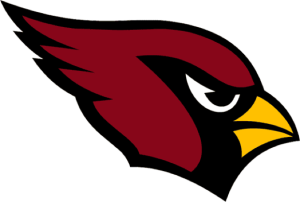 When you're in Phoenix and need a rental car, check out Silvercar.  There's currently a 50% off promotion and, when you use my link before December 31, 2014, you'll get a $50 discount on your rental PLUS a $50 gift card after you complete your rental.
And if you're looking for a place to stay, please support one of our sponsors, Booking.com.
Bing predicts NFL Week 11 winners
Microsoft's Bing search engine predicts the winners each week of the NFL season based upon tons of data.  In Week 10, Bing correctly predicted 9 out of 13 games and is 97-50 (66%) for the year!  Here are the Week 11 predictions from Cortana.
Join Our Newsletter
Join the FlyToTheGame.com newsletter to stay up-to-date with the latest news, specials, promo codes, and pre-sales to your favorite teams.